I am so excited to finally get to share some things that I made for my sister for some of her best friends baby showers. I didn't want to put them on here before the showers just in case the sweet girls saw them on here first. Gifts are a lot more fun when they are a surprise.
First was Heather's shower. She is a great friend of Beth's and is the talented photographer who took Beth's maternity pictures and Lee's newborn pictures. Check out her
website
www.heathercampbellphotography.com
My family absolutely loves all the photos she has taken, so I was excited to use my talents to make something for her little one. We decided to make her a bubble for summer time, that is similar to one we made Lee for last summer. It turned out very cute, and I really hope they enjoy it.
It is a 6 month bubble made of seersucker with crabs on it. It is lined in red gingham.
The next shower was for Beth's friend Rachel. She is having her first little boy, and are also big Alabama fans so Beth wanted to make him an outfit for football season next year. I made him a 12 month Johnny in red corduroy. It is reversible to red gingham. On the gingham side we appliquéd a football, and on the corduroy side we monogrammed his name. It turned out really cute!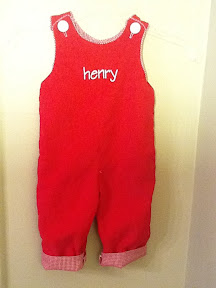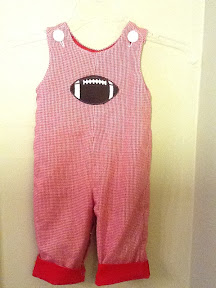 I also had another craft project going on. I have made some burlap door hangers just for my family in the past, so beth and I decided to make one for decoration at Rachel's shower. We decided to make it look like a baby rattle that says "Its a Boy!" It was fun to make and turned out really cute. What do y'all think?
I had a lot of fun making all these things, and cannot wait to see Rachel and Heather's little ones in these outfits. Hope y'all enjoy.
As always if anyone wants to order one of these outfits or something similar feel free to leave a comment or send us an email!
Xoxo,
Leigh Ann
- Posted using BlogPress from my iPad