I am not a parent, but love finding ways to use things more than once, and I think most parents do to. My friend Meredith showed me a dress she bought for her sweet niece. I thought it was so cute and such a great idea. I know people want their kids to have special Christmas outfits, but hate the idea of spending the money on an outfit their kids for a few weeks and then it will be too small next year. Frustrating!
This dress is made of green corduroy and lined in green gingham. It has buttonholes about two inches above the hem of the dress so you can weave a ribbon in it. At Christmas time you can weave a red and white polka dot ribbon, and after you can put a pink and white polka dot ribbon for a cute girly look.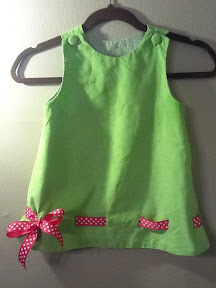 I was also thinking of making one out of red corduroy too. You could use a green and white polka dot ribbon at Christmas and then use a pink ribbon with hearts for Valentines day.
I wanted to make a sample first to see what people thought. This was really simple to make, but doing all the button holes got annoying. I think it was a total of 15 buttonholes lots of fun. I also used covered buttons, so the buttons are covered in green corduroy so they don't distract from the rest of the dress.
This sample is for sale, for $40. It is a size 3, and can be made any any size 12 months and up. It comes with the 2 ribbons pictured, but you can add any one inch ribbon. Easy to get creative. Please contact us if you want to buy this dress, or us to make one in red or green.
Xoxo
Leigh Ann